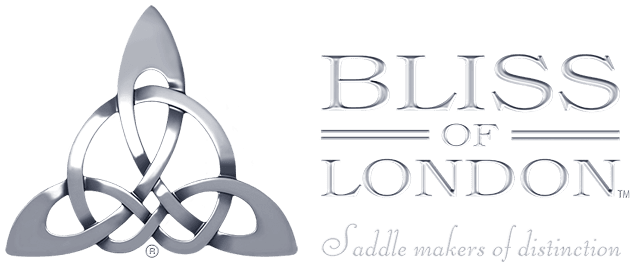 Bliss of London shares your passion for horses and equestrian competition. It is their knowledge of the equestrian world from their team of Master Saddlers, Saddle Fitters and Riders that allows them to design and build some of the world's most advanced and desirable English riding saddles, bridlework, girths and accessories. Every Bliss product is handmade by their craftsman in their own factory in Walsall, England.
Their in house production allows them to create custom made equipment for riders around the world, in every discipline.  All of their saddle models are available on a multitude of traditional wooden spring tree profiles or the new adjustable polymer tree with complimenting pure wool flocked panel options.  Having control of production means they can offer an efficient manufacturing timeframe and you can expect to have your saddle made within 4-6 weeks in most circumstances.
Their signature Triquetra Logo represents the unity of Horse, Rider and Saddle.
Saddles by Bliss of London